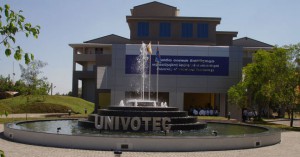 The University of Vocational Technology (UNIVOTEC) is established by the parliamentary Act No. 31 of 2008, and functions under the purview of the Ministry of Youth Affairs and Skills Development. Skilled technicians maintain the daily technological functions of the industrial world ensuring the technology runs accurately and efficiently. Hands-on approach to technical education providing the essential tools for students to succeed in their careers upon graduation.
---
Message from the Competent Authority
As per the instructions of the government and the Ministry of higher education, Research and Innovations, The UoVT is supposed to commence our regular activities from May 11, 2020.  It is noted that the university will function with a skeletal staff to manage our activities and all the academic programmes are offered only on online mode.  The students are not allowed to enter into the university premises strictly.  Visitors are also not allowed unless there is a prior approval for such a visit.  All staff members who have been requested to report for duty will be allowed access provided that they satisfy the health and safety measures as per the Interim guidance published by the Ministry of Health which is available on our web page. It is the responsibility of all staff members to read the health and safety instructions and abide by the instructions.
Nobody will be allowed to enter the university premises if the body temperature is above normal or having any symptoms related to Covid-19.  Wearing a mask within the premises at all times is mandatory and social distancing measures need to be adhered strictly. Hand washing and footwear sanitizing facilities have been provided within the premises. It is not allowed to invite any outsider to the university including the family members of friends. It is the responsibility of every individual to maintain the health and safety measures and report to the authorities if any violations are found. 
All the other stakeholders including the students are advised to stay indoors, enjoy the seclusion as a gift of the nature, appreciate the fact that Sri Lanka is becoming one of the few countries which controlled the pandemic and protected the nation successfully, while getting on board to contribute/ benefit from home to make the online course delivery a success.
Professor Ranjith Premalal De Silva
Competent Authority
---
Notice to Students
Research Methods- Google Class Room
Class code is already emailed to you
Students who have not received it yet, contact HOD