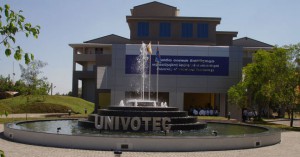 The University of Vocational Technology (UNIVOTEC) is Established by the parliamentary Act No. 31 of 2008, and functions under the purview of the Ministry of Higher Education, Technology and Innovation. Skilled Technicians maintain the daily Technological functions of the industrial world Ensuring the Technology runs accurately and efficiently. Hands-on approach to Technical Education providing the Essential tools for students to succeed in their careers upon graduation.
---
Message to Students from the Competent Authority
COVID-19 pandemic led to close down our regular activities on normal operational modes on March 13, 2020. However, we initiated online teaching from March 23, 2020 in order to continue discharging our teaching duties. We are aware that the access to internet infrastructure is limited for students and hence the entire student population is not in a position to engage in online learning activities uniformly. We also note that the limited knowledge transfer activities can take place on the online mode. In order to ensure equitable access to teaching programs, we keep the recordings of all our online lessons and those who could not participate at the lectures at scheduled times will be provided access to these recordings at a later date. We will also provide download facility for these lesson transcripts.  The arrangements are made to conduct sessions which cannot be delivered on online mode for small groups adhering to health guidelines and instructions from Ministry of Higher Education, Research and Innovations. This will be operational from last week of July if the pandemic control programs show continued success. We will communicate to you when our small group teaching program is ready.
We are glad that we have been granted permission to conduct examinations for limited groups in the University. Accordingly, the relevant batches of student will be contacted individually to notify the examination schedules. While expecting to reopen the university for all our students soon, we kindly request you to continue your learning activities in order to support our efforts to avoid further delays in your study programs. Until we reopen on normal mode, the students are advised to stay indoors, enjoy the seclusion as a gift of the nature, appreciate the fact that Sri Lanka has become one of the few countries which controlled the pandemic and protected the nation successfully, while getting on board to contribute/ benefit from home to make the online course delivery a success.
Professor Ranjith Premalal De Silva
Competent Authority
---
Notice to Students
Research Methods- Google Class Room
Class code is already emailed to you
Students who have not received it yet, contact HOD